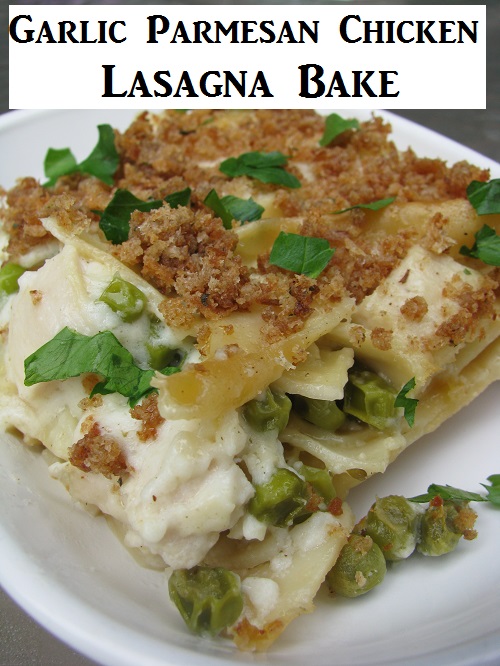 Our friend, Lisa, sent me this delicious recipe that is an alternative to your traditional Italian lasagna. This dish is a bit more labor intensive than some recipes, but it would be great to make ahead and then bake in the oven. Perfect for Sunday dinner or for a family get together. Enjoy! Janelle





Garlic Parmesan Chicken Lasagna Bake
A bit labor intensive, this dish is worth every bit of work. Delicious and a perfect get together dish.
Author:
Lisa-Parsnips and Parsimony
Ingredients
For the lasagna:
10-15 no-boil lasagna noodles
3 cups cooked, shredded or cubed chicken
1 cup sauteed onions
12oz frozen peas
½ cup Parmesan cheese
½ cup Swiss cheese
1 cup water
¼ seasoned breadcrumbs
For the sauce:
6 Tbsp butter
1½ Tbsp minced garlic
6 Tbsp flour
½ tsp poultry seasoning
¾ tsp salt
5 cups milk
Instructions
To make the sauce:
Melt the butter in a heavy bottom sauce pan.
Add garlic to melted butter and stir until fragrant, about 1 minute.
Add flour, poultry seasoning, and salt.
Mix and cook 1-2 minutes.
Slowly add the milk, 1 cup at a time, allowing it to slightly thicken before each addition.
Remove from heat and set aside.
Making the lasagna:
Grease a 9x13 pan and preheat oven to 400
Cover the bottom of the pan with about 5 broken lasagna noodles, half of the chicken, half of the peas and sauteed onion, ¼ cup Parmesan, ⅓ cup water, and 1½ cups sauce.
Repeat this layer one more time.
Top with a layer of broken noodles, ⅓ cup water, 1½ cup sauce, and ½ cup Swiss cheese.
Cover with foil and bake for 40 minutes.
Remove foil after 40 minutes and top with seasoned bread crumbs.
Bake for another 5-10 minutes or until golden brown and bubbly.
Let stand 10 minutes before cutting and serving.
Enjoy!