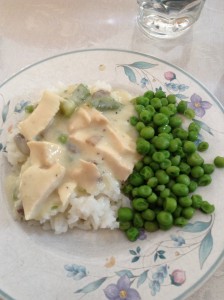 I had never had Chicken A La King until a lady from our church brought it to us after we had just had one of our children. I absolutely fell in LOVE with the yummy mushrooms and just the homeyness of the dish.  The recipe was kindly shared with me and I want to share it with all of you.  This freezes wonderfully and I double the recipe for our large family (but we always have plenty of leftovers).
Enjoy!
-Janelle


Chicken A La King Recipe | Large Family Staple Meal
This freezers wonderfully so I always make a double batch.
Author:
Parsnips and Parsimony
Recipe type:
Chicken Main Dish
Ingredients
4oz can mushrooms (drain and reserve liquid) (I use fresh if I have them on hand)
½ cup chopped green pepper
½ cup butter
½ cup flour
1 tsp. salt
¼ tsp. black pepper
1½ tsp instant chicken bouillon
1½ cups milk
1¼ cup hot water
2 cups cut-up cooked chicken or turkey
4 oz chopped pimiento (optional)
Instructions
Melt butter in a medium/large saucepan or skillet
Add chopped peppers and mushrooms (drain canned mushrooms if not using fresh, save liquid)
Cook for approximately 10 minutes over medium heat until the peppers are crisp tender
Add flour, salt and pepper to skillet.
Mix together and cook for another minute
Add water*, milk, reserved mushroom liquid (if you have it) and bouillon
*Note: If you boiled your chicken, use the chicken liquid instead of the water
Stir everything together and bring it to a boil, stirring constantly
Cook for 1-2 minutes
Add chicken and pimientos
Heat through and serve over rice, pancakes or waffles