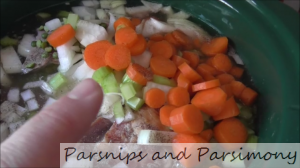 I grew up with pea soup. My mom always turned the ham bone left over from Easter, into a delicious pot of pea soup. When I got married, I wasn't home as much to create that wonderful simmering pot of pea soup like my mom did. That's when I turned to my crock pot. I LOVE my crock pot because it does ALL the work for me. But it also creates that wonderful pot of soup, just like my mom's.  Here the is my ole' stand-by recipe that I have made so many times. It's easy, tastes wonderful and it makes a BIG pot of it. Make sure you use a LARGE crock pot for this recipe. When it starts to boil, if it's too full, the pot will boil over and make a MESS of your crock pot. Trust me, I've had that happen one too many times!!!
Enjoy!
-Janelle


Crock pot/Slow Cooker Split Pea Soup | Parsnip and Parsimony Staple
Total comfort food, this recipe is a snap to throw together and it tastes so comforting when you sit down to eat a bowl. Enjoy!
Author:
Parsnips and Parsimony
Ingredients
1 pound dried split peas
8 cups water (or 4 cups chicken broth/4 cups water)
1 bay leaf
½ tsp black pepper
1 pound carrots
2-3 stalks celery
1 ham bone
1 large onion
Instructions
Place ham bone in crock pot with water
Look over split peas for small stones or debris; rinse
Add peas, pepper and bay leaf to crock pot
Peel carrots and cut into ¼" rounds
Chop celery and onion
Add carrots, celery and onion to crock pot
Cook on high for 5-6+ hours or low 8-10 hours
A half hour prior to serving, remove ham bone. Remove meat and cut. Add meat back to crock pot and serve piping hot
Enjoy!