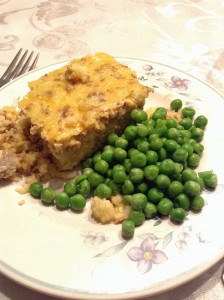 I was raised in Upstate New York and never, ever tried grits or even heard of them until the Cracker Barrel restaurant came to our area and grits were on the menu.  One of you wanted to give me the opportunity to try grits for myself and for my family.  This recipe was included in the package of grits.
Let me say that these are DELICIOUS! They got my families seal of approval and a make again!  Whether you are new to grits or have been making them for ages, you need to try this recipe.
I hope you will try this recipe and enjoy it as much as we all did.
-Janelle


Southern Recipe: Sausage and Grits
This recipe is a great first timer recipe if you have never tried grits before.
Author:
Parsnips and Parsimony
Ingredients
2lbs pork sausage (mild or spicy or a mix)
2 cups water
2 cups chicken broth
1¼ cups grits
1 tsp salt
1 lb sharp cheddar cheese, shredded
6 Tbsp butter
1 cup milk
1 tsp garlic powder
1 tsp paprika
1 tsp cayenne pepper (I used ¼ tsp)
6 eggs, beaten
Instructions
Brown sausage and drain well
Set aside
Bring water and broth to a boil
Stir in salt and grits and then return to a boil
Cover pan and reduce heat to medium
Simmer for 10 minutes, stirring occasionally.
Remove from heat
Add cheese, milk, butter, garlic powder, paprika and cayenne pepper
Stir until cheese melts
Add sausage and eggs; mix
Spoon into a lightly greased 9x13 baking dish
Bake uncovered @ 350F for 45-55 minutes or until golden brown and bubbly and a knife inserted in the middle comes out clean
Let stand 15 minutes before serving