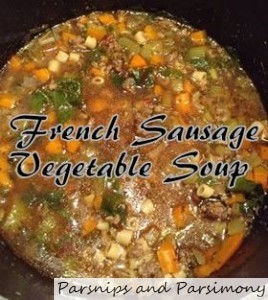 Last night, I was in the mood for some soup. Not just any old soup, but a different soup.  My French grandpa used to make this rabbit stew, made with all sorts of vegetables and wine. It was SOOOOO yummy!  I was really missing those flavors and decided to attempt to make a soup of my own that tasted like his.
I didn't have any rabbit to use (!!!!!) so I just used some bulk pork sausage.  This is a lighter soup and you could make it low-carb by omitting the pasta.
French Sausage Vegetable Soup With Herbs
This soup reminds me of what my French grandpa used to make. It's totally different because of the cooking wine, rosemary, thyme and oregano but a very light, refreshing soup.
Author:
Parsnips and Parsimony
Ingredients
½lb bulk pork sausage
1 small onion
3-4 carrots
3 stalks of celery
4 cups beef broth
¼-1/2 cup white cooking wine
¼ tsp dried rosemary
¼ tsp thyme
¼ tsp oregano
¼ tsp black pepper
Salt to taste
1 tsp sugar
1 cup dried tubetti pasta (you can use shells if you want)
1 cup fresh, chopped swiss chard
shredded Parmesan cheese for garnish
Instructions
Put sausage, onion, carrots and celery in the bottom of a heavy bottom stock pot. Cook for 10-15 minutes until sausage is fully cooked and onion and celery are starting to get fragrant and slightly soft.
De-glaze the pan with cooking wine and allow it to cook down for a few minutes to cook off most of the alcohol.
Add beef broth. (I used 4 cups water and 4tsp Watkins Beef Seasoning Powder)
Add spices and sugar.
Bring to a boil and then cover and simmer until vegetables are crisp tender, about 10-20 minutes.
Add pasta and swiss chard. Allow it to cook until pasta is tender.
Serve with crispy bread and put Parmesan cheese.