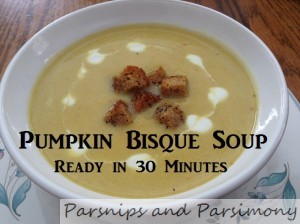 Hello! If you have just discovered this recipe, you must be a lover of all things pumpkin OR you had an abundance of pumpkins that you didn't want to go to waste. Whatever the case, you must try this savory, pumpkin soup recipe.  This isn't your grandma's pumpkin pie soup. No, this is more of a savory, not sweet, pumpkin soup.
My husband was leery to trying pumpkin soup but being the great man that he is, he gave it a try. Guess what?!?! He liked it!!! My favorite way to serve this soup is with a dollop of sour cream and crunchy sourdough croutons.
I hope you enjoy this recipe. If you do, I would love to hear from you!
Thank you so much for stopping by. I hope you will take a look at the many different recipes that I have here on Parsnips and Parsimony.
– Janelle

 

Pumpkin Bisque Soup: Fast and Easy
This soup can be ready in 30 minutes. Full of flavor, this soup is not your ordinary pumpkin soup!
Author:
Parsnips and Parsimony
Ingredients
1 cup chopped onions
2 Tbsp olive oil
1-2 tsp minced garlic
¼ tsp rosemary
½ tsp thyme
¼ tsp paprika
¼ cup flour
3 cups of pumpkin puree
2 cups water
¼ cup chicken soup base
½-1 cup half & half
Sour cream
Instructions
In heavy bottom pot, cook onions in olive oil until translucent.
Add herbs and spices.
Cook until herbs become fragrant, about 1 minute
Add flour to pot and cook for another minute or two
Add pumpkin, water and soup base.
Cover and cook for 10-15 minutes until the flavors all meld together.
Add half and half. Remove from heat and serve. Do not allow the soup to boil after adding half and half.
Serve with a dollop of sour cream and crunchy sour dough croutons.
Enjoy!