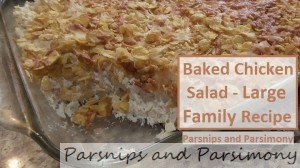 When I was growing up, my great aunt always made this recipe. It is always a hit and now I make it for my family. It has always been a staple for our family and it's the perfect make ahead dish for potlucks or large family gatherings. I hope you enjoy this!
-Janelle
Baked Chicken Salad
A fabulous dish to make ahead for a large family or lots of mouths to feed. 🙂 Enjoy!
Author:
Parsnips and Parsimony
Ingredients
8 cups cooked chicken, diced
5 cups cooked rice
1 can cream of mushroom soup (2 cans if you like it extra creamy)
1 cup mayo (2 cups if you like it extra creamy)
1 cup chicken broth
½ onion, finely diced
1 cup corn flakes
1 cup shredded cheese, cheddar or American
Salt/Pepper to taste
Instructions
Mix chicken, rice, soup, mayo, salt/pepper and chicken broth all together in a large bowl.
Taste and adjust salt/pepper if necessary.
If you like your food more moist, you can add another can of cream of mushroom soup and 1 cup of mayo.
Place mixture in a large greased 9x13 or larger baking dish.
Top with crushed corn flakes
Sprinkle cheese over the cornflakes
Bake at 350F for 30-40 minutes or until the cheese is golden brown.
Enjoy!